Home
Details

Written by

Super User

Category: Satellite TV in Anguilla
Hits: 1749
US TV satellite Anguilla Satellite TV American TV Anguilla US TV Anguilla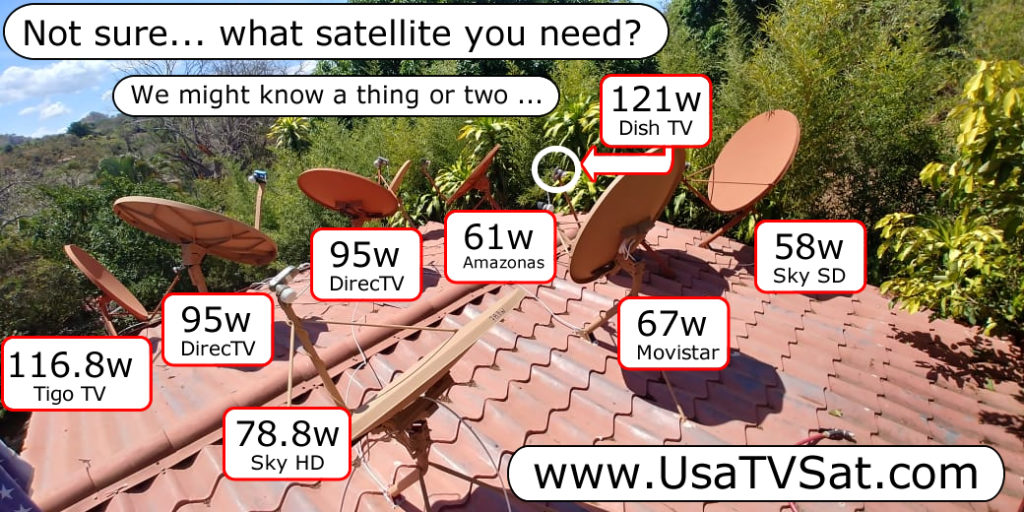 Do you need a quotation? Do you need more information?
Just contact Alberto Araya , Senior Telecommunications Engineer
Bachelor of Science in Computer Engineering from Western Michigan University
E-mail: This email address is being protected from spambots. You need JavaScript enabled to view it.
Costa Rica Mobile phone/ Whats App : +506-8701-0007 (This is a 24/7 phone line. Do not forget to add the + before 506 ) 
USA phone - Only SMS Texting : +1-(786)-263-9206
Free International Voip Calling : Skype AlbertoArayaCruz  &  Viber : +506-8701-0007
Youtube Channel : https://www.youtube.com/user/aarayacr
How can we help you? English / Español / Deutsch
<<< WE BELIEVE IN PROFESSIONAL --- GOOD OLD-FASHIONED HARD WORK. >>> 
<<< WE DO THE WORK ONLY ONE TIME AND WE DO IT RIGHT... ! >>> 
Details

Written by

Super User

Category: Satellite TV in Anguilla
Hits: 1450
Welcome to UsaTVSat.com for the Caribbean Islands!
Reliable U.S. TV for Sportsbooks, Sportbars, Marinas, Luxury Homes, Resorts and Hotels.
ABC, CBS, FOX, NBC, U.S. ESPN, U.S. FOX SPORTS, NFL Sunday Ticket Pass, NBA, MLB, NHL HOCKEY.
UsaTvSat.com/ The Caribbean division is a young but very motivated satellite TV installation service company based out of Miami - Costa Rica founded by Alberto Araya , a computer engineer and a professional satellite enthusiast that saw an opportunity to provide high quality U.S. / English Speaking TV programming in the Caribbean at a fair price.
We have products and services to accommodate all types of budgets. We build satellite TV systems with small (3ft.) and big (8ft.) satellite dishes for high resolution TV viewing.
We sell high definition satellite receivers for Dish Network or DirecTV, we professionally rewire your home or office, we offer TV modulation for Sports bars, Restaurants, or Sportsbooks, we install satellite equipment in racks, and we are committed to providing you with the highest standard of quality.
Please keep in mind that all Satellite TV services are from American Multinational Corporations.
This is not TV Streaming, Internet TV or IPTV that does not work properly from Latin America or the Caribbean because of Internet bandwidth limitations, or lag or due to decaying telecom network infrastructure. This is also NOT pirate/ bootleg Satellite TV with chinese satellite receivers and IKS servers which are pretty popular among "local caribbean" satellite TV installers.
This is a legitimate satellite TV service where you pay a fair monthly fee and you get a great satellite TV service in return.
Where do we offer our Satellite TV installation service in the Caribbean?
Anguilla , Antigua, Barbados, British Virgin Islands, Cayman
Curacao, Dominica, Grenada, Jamaica, Montserrat, Saint Kitts & Nevis
Saint Lucia, Trinidad & Tobago, Turks and Caicos.
For Mexico, Central America and Colombia, click here.
Do you need a quotation? Do you need more information?
Just contact Alberto Araya , Senior Telecommunications Engineer
Bachelor of Science in Computer Engineering from Western Michigan University
E-mail: This email address is being protected from spambots. You need JavaScript enabled to view it.
Costa Rica Mobile phone/ Whats App : +506-8701-0007 (This is a 24/7 phone line. Do not forget to add the + before 506 ) 
USA phone - Only SMS Texting : +1-(786)-263-9206
Free International Voip Calling : Skype AlbertoArayaCruz  &  Viber : +506-8701-0007
Youtube Channel : https://www.youtube.com/user/aarayacr
Details

Written by

Super User

Category: U.S. TV via satellite in Anguilla
Hits: 968
Satellite TV in Anguilla 
https://www.youtube.com/watch?v=bdXz-M_eMoI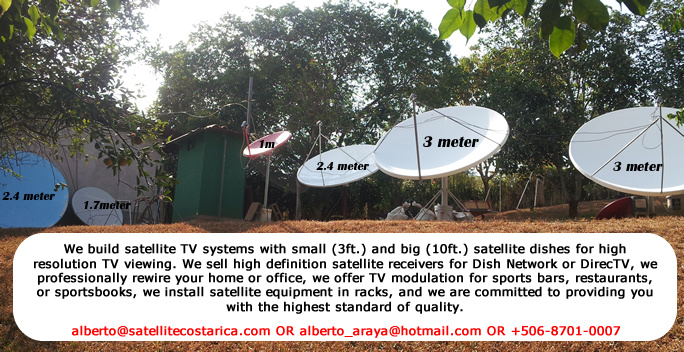 Alberto A. , Computer Engineer from Western Michigan University
Tel: +506-8701-0007 (Costa Rica)